LATE H.H.MAHARAJA SAWAI BHAWANI SINGH MVC OF JAIPUR

Late H.H. Maharaja Brigadier Sawai Bhawani Singh MVC of Jaipur, was the eldest son of Late His Highness Maharaja Lt. Gen. Sir Sawai Man Singh, KCIE, GCSI of Jaipur and Late Her Highness Rajmata Marudhar Kanwar.
Born on 22nd October, 1931, he received his education at Shesbagh School, Kashmir, Doon School, Dehradun and at Harrow School, U.K.
Career-
Maharaja Sahib was commissioned into the Indian Army in the 3rd Cavalry Regiment as a 2nd Lieutenant in 1954, and was selected for the President's Bodyguard where he served for a period of eight years till 1963. During the period he also performed duties at the Prime Minister's Residence, during the tenure of the late Pt. Jawaharlal Nehru.
He was posted to Para Brigade HQ [50] in 1963. During this period he volunteered and carried out high altitude parachute jumping in Leh at 20,000 ft. without the help of oxygen. He was selected and posted as Adjutant, Indian Military Academy, Dehradun from January 1964 to 1967.
In June 1967, he volunteered for the new Para Commando Unit and was posted to 10 Para Commando as 2nd–in-Command. The following year he became the Commanding Officer and organized its training on a new concept.
In 1970, he helped train Mukti Bahini before the commencement of the Bangladesh War. In the 1971 Indo-Pak War, he led his Battalion into action and as a result of his gallantry and exploits, he was awarded the second highest gallantry award the "MAHAVIR CHAKRA". His Battalion also got 10 gallantry awards for their action in these operations.
In May 1972, he took voluntary retirement from the Army to look after the ancestral properties, which was necessitated due to the death of his father in June 1970.
While the Indian Army was in action in Sri Lanka under Operation Pawan, H.E., the President of India and the Honorable Prime Minister, Mr. Rajiv Gandhi requested him to go to Sri Lanka and boost the low morale of his old unit (10 Para). He was successful in boosting the morale of the unit and for this H.E. The President of India bestowed upon him the rank of Brigadier. This is a rare honour when an army personnel has been given a promotion in rank after retirement.
He was appointed as the First Resident High Commissioner to the State of Brunei from July 1993 to January 1997. During his tenure the relationship between Brunei and India was placed on a firm footing and a number of agreements were signed between the two countries.
Interests and Activities-
For the past three decades he had been involved in the revival of the defunct 36 Karkhanas (Hazuri) of the state of Jaipur. After 30th March, 1949 when the induction of the states took place to form Rajasthan, many of the Karkhanas, had to be closed due to lack of finances and other related reasons. He took up the challenge to revive some of them through his two Trusts- Maharaja Sawai Man Singh II Museum Trust and Jaigarh Public Charitable Trust. Since 1997 this has been given a great fillip especially after his only daughter, Princess Diya Kumari took keen interest in the projects. Now under the banner of "Friends of Museum, Artists & Craftsmen" dozens of national and district award winning artists and craftsmen have been given patronage and opportunity to demonstrate their art and craftsmanship before the international and the local visitors to the City Palace and the artisans are able to directly sell their products to them.
Under the patronage of Late His Highness Brig. Sawai Bhawani Singh, MVC of Jaipur the Sawai Man Singh II Museum Trust and the Jaigarh Public Charitable Trust have expanded and become two of the most important museums of the country. They have participated in all the Festivals of India in U.K., U.S.A., France, Japan, Switzerland and Italy. The Museum at City Palace has also sent the rare silk carpet (16th century) to the exhibition "Flowers Under Foot" at the Metropolitan Museum, New York. This was the only exhibit from India for this international exhibition. Several articles of the Museum were also sent to Chembery, Paris in France for the exhibition "General Doinge". Similarly, several of the 19th century Glass Plate negatives of photographs taken by Maharaja Sawai Ram Singh were sent to Lousee, Switzerland. All these were possible due to generosity and farsightedness of Late Maharaja Sahib.
At Palm Beaches, U.S.A., he was decorated for the promotion of Polo at the international level. He was invited by the Republic of China to attend the Polo festival in Beijing. He has captained Polo Teams to U.S.A., U.K., Hong Kong, Brunei, Italy and France.
He also promoted Cricket and Tennis and his hobbies were flying, parachuting, polo, tennis, squash, music and reading.
Family-
Maharaja Sahib was married to Her Highness Rajmata Padmini Devi, the princess of the erstwhile state of Sirmur in Himachal Pradesh. Their only daughter Princess Diya Kumari is married to Maharaj Narendra Singh, and the couple are blessed with three children.
H.H.RAJMATA PADMINI DEVI OF JAIPUR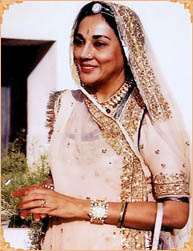 Her Highness Rajmata Padmini Devi of Jaipur was born as the Princess of Sirmur. As a princess she was given a sound convent education in Mussorie and then went on to the finishing schools in London and Switzerland. Despite spending majority of her time abroad amidst royalty and international dignitaries, Her Highness always remained rooted in the Rajput traditions and customs. There has never been a festival in the Hindu calendar which she has not celebrated with the people of Jaipur. Be it a completely traditional Dandia Nite or an elegant Polo Ball, Rajmata Sahiba organized it with panache.

A brilliant conversationalist with a regal personality, Rajmata Sahiba is a scholar of Sanskrit, Hindi and History. Having a penchant for detail and planning Rajmata Padmini Devi is a guiding force for the Sawai Man Singh Museum Trust, The Jaigarh Trust and also takes keen interest in the maintenance and upkeep of the Shilamata temple at Amber.