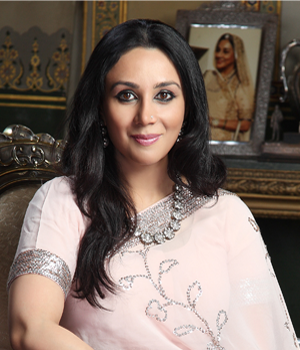 The Founder Director:
Princess Diya Kumari of Jaipur.


The only daughter of Late His Highness Maharaja Sawai Bhawani Singh MVC of Jaipur and Her Highness Maharani Padmini Devi, Princess Diya Kumari is the Founder Director of the Maharaja Sawai Bhawani Singh School.

Princess Diya Kumari has been successfully looking after multifarious business enterprises in the tourism, culture, hospitality and educational sectors. Her distinct entrepreneurial acumen is apparent by the success of the Maharaja Sawai Man Singh II Museum Trust, The Jaigarh Charitable Trust, The Rajmahal Hotel, The Jaipur Palace Hotel , Mt. Abu, The Palace Cafe, Durga Diya Enterprises, The Palace School and The Maharaja Sawai Bhawani Singh School. She has served as MLA from Sawai Madhopur and distinguished herself for her devotion and hard work in her constituency. At present she is Member of Parliament from Rajsamand Constituency in Rajasthan.

Young, elegant and beautiful, Princess Diya has endeared herself to all by her easy charm and grace. Having an innate sense of beauty and aesthetics, the Princess is the cynosure of all eyes and a much sought after figure in Jaipur and elsewhere. The Princess manages her affairs, both personal and professional, with admirable ease and calm. Having a keen interest in art and culture, Princess Diya actively promotes traditional arts and crafts, music and dance. Her interest and vision in the field of education has resulted in the founding of two schools of high repute, the Palace School and the Maharaja Sawai Bhawani Singh School.

The Princess is blessed with three children, one daughter and two sons.